ReferrerHackKit
This software is SIMBL plugin to manage referrer of Safari. This software aims at RefControl of the Safari version.
Open source and freeware! License is GPL.
Requirements
Mac OS X 10.6
Mac OS X 10.4/10.5
Download
Latest version
Old Versions
Release log
変更履歴
v0.3.2 2010-06-17

Added Safari 5.0 support.

v0.3.0 2009-05-12

v0.2.5 2008-06-22

v0.2.4 2008-06-20

v0.2.3 2008-06-20

fix HTTPBody was not set on coping HTTPRequest.

v0.2.2 2008-06-19

User interface fix for preference panel.

v0.2.0 2008-06-19

Bug fix for Japanease environment.
Add function of Referrer customization.
Add Wildcard support for requested url.

v0.1.0 2008-06-18
Source code
$ svn co http://www.fraction.jp/repos/SafariReferrerHack/trunk/ ReferrerHackKit

How to install
First, please install SIMBL.
Delete older version of ReferrerHackit.bundle and SafariRefManage.bundle.
Copy ReferrerHackKit.bundle from downloaded disk image and paste to ~/Library/Application? Support/SIMBL/Plugins.
Relaunch your Safari.
Hou to configure
If the installation is successful, you'll see "Manage Referrer" on the Safari menu.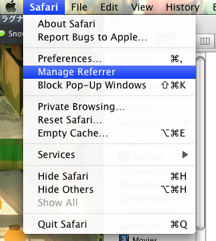 It can specify how to rewrite as URL of the object that rewrites referrer.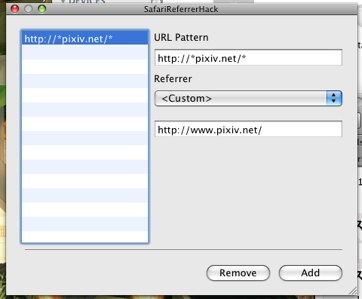 Wildcard url supported.
For the referrer, the following options are available:
<Normal>

send the referrer as it would normally.

<Block>

send no referrer to this site.

<Forge>

end the root of the site as the referrer. In the above screenshot, all pages for example from http://map.pixiv.net/address?ac=01&type= will use http://map.pixiv.net/ as the referrer.

<Custom>

type in any string and SafariRefManage will use that as the referrer. ou can use RefControl like variables in this string.